I'll be honest, I thought I'd find dressing a pregnant body an absolute breeze.
"It's going to be winter!" I said, excitedly at 12 weeks when I was just slightly bloated and could still fit in my jeans, "I'll live in leggings and jumpers, it'll be amazing and cosy! I can't wait."
Reader. I'm 24 weeks pregnant now and if I have to browse another Maternity department of stripey t-shirts and wrap-around jumpers, I'm going to lose my freakin' mind.
I am in no way an expert, as I'm walking around determinedly with bare legs in 4 degree weather and every pair of maternity jeans I've tried on has ended with me crying, flinging them across the room and dragging my leggings out of the wash bin for the fourth time that week.
However, I've created myself a nice little capsule wardrobe that I'm living out of and I thought I'd share my essentials. If you're expecting and feeling underwhelmed by what's out there – same. But we survive through cosy jumpers and leggings that reach up to your boobs.
Over The Bump Leggings from ASOS
Honestly, I have two pairs of these and they're the best things I've ever worn. I think I might keep them forever and wear them when I'm not pregnant and going for a carvery. I'm going to buy some more as they are essential under everything I wear.
I can confirm maternity jeans are a waste of time and you're better off wearing leggings and a slightly longer top than attempting to pretend like you've got your shit together with some denim on.  No-one cares if you're wearing leggings and if they mention it, they can swivel.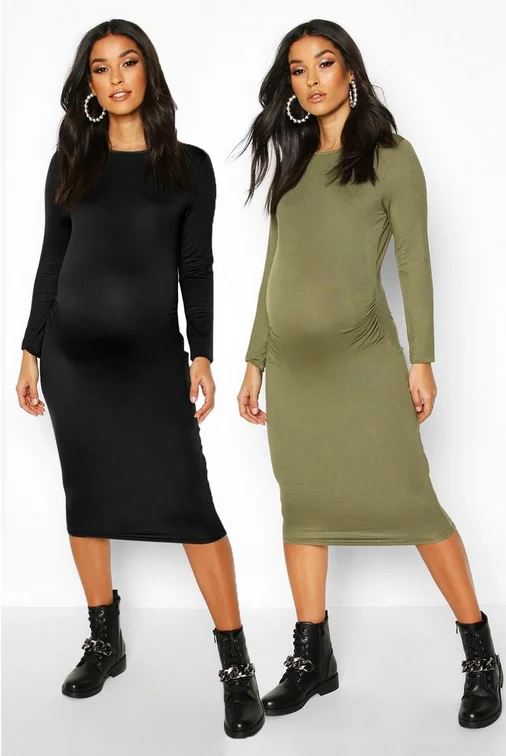 As someone who hasn't worn anything bodycon for YEARS, for some reason I'm finding these really comfortable at the moment.
They hug the bump, which is what I personally need as I'm finding I'm not always a fan of a baggy loose dress as I get a bit self conscious about looking bigger than I am.
They look nice and dressy but also are really easy to chuck on in the morning for the school run with some trainers. Best of both worlds!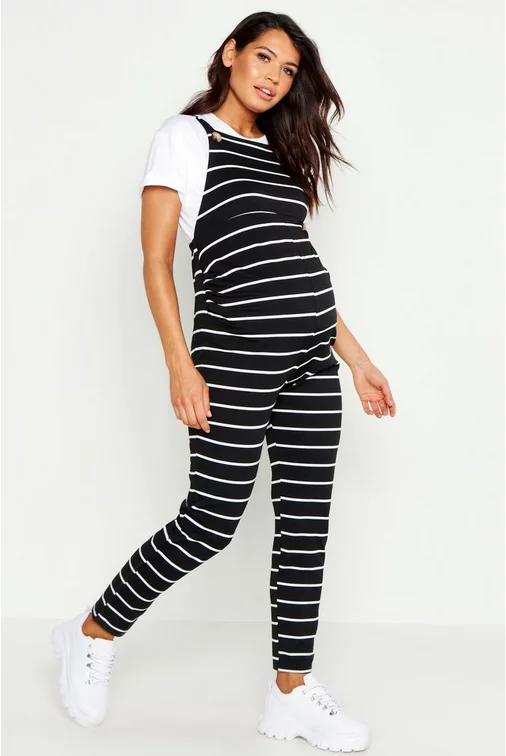 Stripey Jersey Dungarees from Boohoo
These make me look like a giant round baby but they are 100% the comfiest thing I've ever worn.
My normal dungarees that I thought would see me through my entire pregnancy back in the early days have officially given up the ghost. I'm not able to do the buttons up at the side, and can only tuck the flappy bits in to massive jumpers for so long, so I reckon the entire Christmas season will be spent in these bad boys.
Oversized Shirt Dress from Monki
Monki in general is absolutely perfect for oversized dresses. I bought this in their store on Carnaby Street and it's definitely not going to be oversized on me for long, but leggings and a vest top underneath solve many ills.
I'm also going to be able to wear it afterwards, as there are buttons and it's all about the easy access to the boobs with a tiny baby.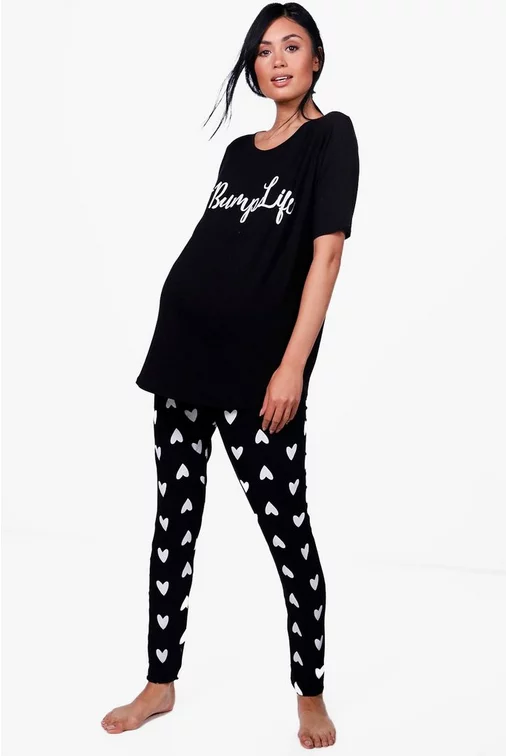 Maternity pyjamas, I hear you laugh. Why do you need maternity pyjamas when surely just your bog-standard pyjama will do, just in a bigger size?!
Well, reader, let me tell you that when you trot downstairs in the morning to make your first-born some Shreddies and you walk into your kitchen, go to reach up into a cupboard and your growing tummy touches the freezing cold kitchen counter – it's really horrible, okay.
These bad boys are high waisted up to the nip and the t-shirt is extra long as well for that double comfort.
I'd definitely recommend investing in a few pairs of these rather than stocking up on Primark PJ's in bigger sizes because I can confirm that they just fall down when you toss and turn all night. I know this because all my maternity pyjamas are in the wash so I put on my old faithful baggy bottoms last night and woke up at 3am with a builders bum.