Sound the alarm! Mothers Day is coming up!
For some, it's full of excitement and joy – imagining the breakfast in bed you're going to get and the presents your babies will have picked out for you and the cute handwriting they'll scribble in your card with.
For some, it's full of dread as it comes to the day before and you realise you've got Sweet F A to show your mum how much you love her. (MEEEEEE. I'm writing this realising I've got my mother nothing.)
I've listed a few ideas below if you're really stuck for ideas – but don't panic too much. We lose an hour of sleep on Mothers Day night so to be honest, I think it's all a bit of a fail and I'll see you all in 2020.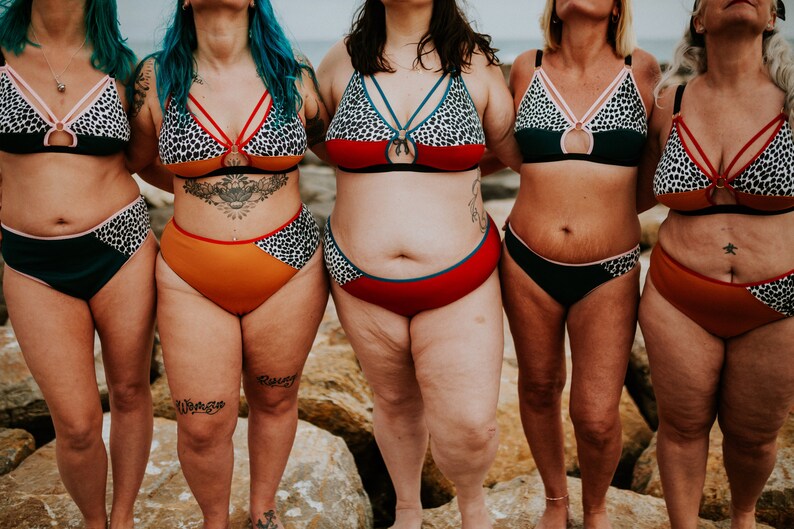 Underwear from the overwhelmingly amazing Lucky Sew and Sew for the Mother in your life who is currently breastfeeding and keeps getting really angry about how their breasts currently resemble two heavy sacks of grain on their front and all they can do with these milk bags is fold them into an ill-fitting griege bra from Mothercare and they just feel pretty pants about the whole thing.
Get yourself onto Lucky Sew and Sew and order the mothering figure in your life some brand new undercrackers. All these bras are handmade to order so you won't be able to keep this present a surprise – you'll need measurements!
Raising The Future t-shirt in black from Mere Soeur for the Mother in your life who spends her evenings on the sofa scrolling through Instagram and only ever half-watching whatever you've got on telly. She probably missed half of Killing Eve because she was so engrossed in someone's Marks and Spencers haul on Instagram stories.
Me. This one's for me. I've already got this t-shirt but it's in white which is always risky when you've got little ones. Even more distressing when said children are having an intense love affair with tomato ketchup. (Unfortunately whilst link searching I've discovered that this is currently out of stock but…give her an IOU?)
The Create-Your-Own package from Don't Buy Her Flowers for the Mother you never get round to see anymore. You're either away at Uni, living away full stop or you just haven't got round there recently. Weekends just get filled up so quickly and you're trying to declutter and you really need…okay, there's no excuse.
This one is really meaningful as you can tailor the package to fit whoever you're buying it for. And it's much more useful than a bunch of flowers. (Although if you haven't been round in a really long time then I'd recommend doing both. Best to cover both bases.)
The Book Matchmaker for the Mother who has just started popping her kid into nursery for a few mornings a week since she's started to qualify for the free hours but she's trying to avoid cleaning the kitchen floor and looking for something more fulfilling to do than complete 15 levels of Candy Crush during an episode of Homes Under The Hammer. (ME. THIS IS ALSO ME.)
The mum you're buying this for probably can't remember the last time she read a book that wasn't about a cartoon animal eating everything in sight. A Costa gift card and a good book would mean the world, trust me.
Faces Of The Strong Girls Club t-shirt from Mutha Hood for the Mother who is raising her children to be strident and powerful feminists. She reads Goodnight Stories for Rebel Girls to her children every night, and makes a point to tell her children about the Nazi history of Coco Chanel. She's not here to sugar coat the world. But she 100% is here for displaying her feminism on her t-shirt in the form of beautiful watercolour artwork.
If you're buying this for a mum who has a daughter then please bear in mind there's also a mini version of this t-shirt available which would look SO CUTE.